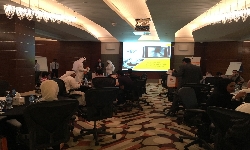 March-2016
PETCO hosted a seminar which was conducted by EVCAM on 24th March 2016 at Safir Hotel, Fintas, Kuwait.
To mark the event, we had Team Leaders and other 52 KOC Engineers from the drilling and workover dept.
The seminar was conducted by Mr. Peter Burton and Mr. Omar Al Hindas from Evcam in three segments.
First segment was highlighted on Wellbore Diagnosis, Second segment on KOC Case studies and Third segment on General case studies
PETCO received a positive response thereafter from KOC.
The seminar concluded with Lunch.
It was a successful event!!